Vegan & Vegetarian Restaurant
in the heart of Tallinn
Rotermanni 2 10111 Tallinn
A brand new menu served every day from midday onwards
DAILY HOMEMADE GLUTEN FREE ARTISAN PASTRIES BAKED LOVINGLY BY OUR IN-HOUSE CHEF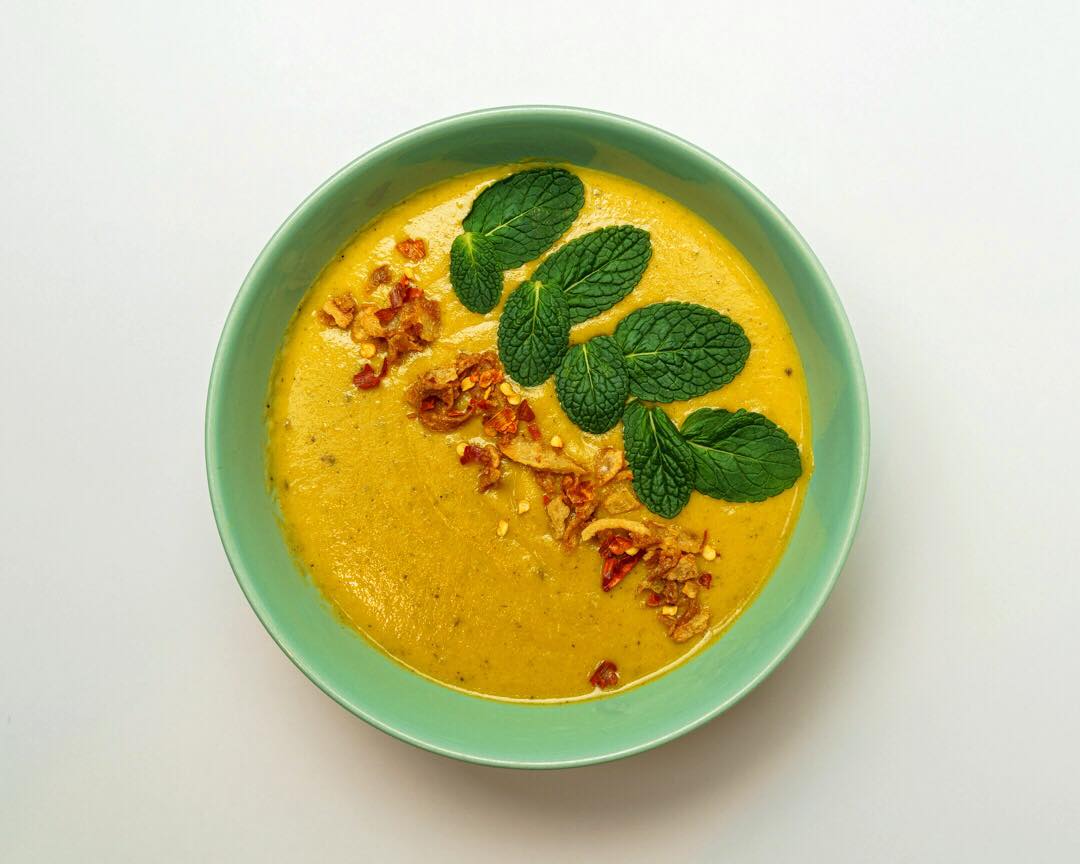 Creamy cauliflower
soup (VG)
About Purèe
Purée… tasty soups, salads, smoothies, and bakery made with love and dedication.
Purée is mother Nonna and daughter Inga. In 2018 we decided to continue this health bar so that Rotermann wouldn't go without a place to enjoy delicious home cooked food.
It all begins with our rich Armenian heritage where familial cooking skills are very much alive and celebrated. Mother Nonna's dishes are the highlights of the day that draw in the rest of the family each night. Our birthdays and other events are known for generously laden dinner table where guests converge to relish all there is.
Yet when daughters grew up and left home, suddenly there was no one to offer these kitchen delights. That was a shame. So came the idea to open a small cosy cafe where guests could visit mother every day. And experience this delectable world in which me and my sister grew up in.
Why run a health bar? Because it's an exciting business that encourages creativity. For mother, who is used to meaty Armenian cuisine, vegetarian cooking is a challenge that gets her inventive. Whole, healthy food need not to be bland and watery. Expert knowledge in using herbs and spices yields a flavourful result. Hence our keywords are honest, nutritious, healthy homemade food which, despite being mostly plant-based, is a filling meal even in our northerly latitude.
Welcome, come on in!
Очень вкусно, по-домашнему приятно и совсем недорого
Haykanush Ohanyan
2021-08-17
It was a great experience and discovery. It felt like home and that your mom has cooked the most magnificent soup ever. A nice healthy food restaurant.
Michael Hunkeler
2021-07-21
Great fresh food
Ринат Дмитриев
2021-05-13
Все понравилось
Seriously the best food! Very simple and yet delicious. The best Napoleon cackle I've ever tried in my life. I would say it is your best choice for lunch. The owner is a very nice woman to chat with.
I have eaten hear more then a couple times and it's amazing every time. 🙂 it's like being at home when your mom cooks amazing fresh food for you with all the care and love in the world. Not only is the food amazing but the restaurant feels so cozy and comfortable. You can even order your food delivered although I still love coming in for the experience of the atmosphere.
Natalja Zhuravljova
2020-11-12
My favorite dining place in Rotermanni! Very tasty homemade, fresh food, mostly vegetarian. Highly recommended!
Michael Miroshnichenko
2020-10-09
Большие порции, очень вкусная еда, приятное обслуживание. Не высокие цены. Прекрасный вариант отобедать для тех, кто не ест мясо. Но, к сожалению, мало посадочных мест.
A really homey little cafe close to the Old Town. The food reminds you of something you'd eat at home, and there are so many healthy options (as well as heaps of cakes/pastries). Definitely recommend.